Curious About Leeds?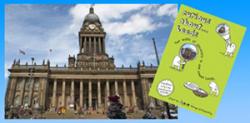 Starts at: Leeds Art Gallery
The Headrow
Leeds
West Yorkshire | Update this listing
LS1 3AA | map
Tel: 0115 950 2151
Visit website
Send email
add your business for free
Have fun discovering Leeds with two self-guided, treasure hunt style walks. Find answers to clues and match pictures whilst reading stories about this fabulous city - you're guaranteed to spot things you've never noticed before. The two walks can be enjoyed separately or joined together to form one longer walk - depending on available time and energy!

Walks are suitable for all ages (detours to avoid steps are marked on the route map), and typically take 1-2 hours each to complete. Booklet of two walks available to buy or download from just £3.50 from www.curiousabout.co.uk/Leeds/index.php
Have fun and be Curious!
This page has been viewed 841 times since 24th September 2012
Other Activities nearby:
Country Rides, Bingley

Low Fold Equestrian, Lepton

Knotford Lagoon, Leeds

Hopton Waters Fishery, Mirfield

Scammonden Activity Centre, Huddersfield

Apollo Canal Cruises, Shipley

British Waterways, Doncaster

Huddersfield Dive Centre, Huddersfield

Huddersfield Dive Centre, Huddersfield

Rockwood Equestrian Centre, Wakefield

Motor Sport - Harewood Speed Hillclimb, Leeds

Ride Rural, Huddersfield

Ride Rural, Huddersfield

The Sportsman Inn & Leisure, Halifax

Halifax Ski Centre, Halifax

Electric Bowl, Halifax

Bowlplex Castleford, Castleford

Airborne Hang Gliding & Paragliding Centre, Halifax

Craven Pothole Club, Birstal

Goals Soccer Centre, Bradford

Goals Soccer Centre, Leeds

Laura Brennan Equestrian Centre, Halifax

West Wyns Riding School, Slaithwaite

Leeds City Cruisers Ltd, Leeds

The Right Track, Bradford

Halifax Imperial Wheelers CC, Sowerby Bridge

Team Right Track Haro Bikes, Bradford

Bradford RCC, Bradford

Bronte Wheelers, Shipley

Huddersfield RC, Huddersfield

Keighley RC, Keighley

Leeds Mercury RT, Leeds

Leeds Premier ATR, Leeds

Wakefield CC, Wakefield

Wetherby Wheelers CC, Wetherby

West Yorkshire Rough Riders, Leeds

Phoenix Bowmen, Halifax

Savile Bowmen, Dewsbury

Bowmen of Adel, Leeds

Bowmen of Leeds, Leeds

Panda Bowmen Archery Club, Leeds

University Of Bradford Union Archery Club, Bradford

Valley Bowmen of Huddersfield, Huddersfield

Ministry of Paintball, Leeds

Ministry of Paintball, Wakefield

Ministry of Paintball, Pontefract


Other things to do in the area
The National Media Museum, Bradford

DIggerland, Castleford

BTCV Nursery and Wildlife Garden, Leeds

Thwaite Mills Watermill, Leeds

Wilton Park, Batley

Pontefract Castle, Pontefract

Bradford Industrial Museum & Horses at Work, Bradford

Wakefield Museum, Wakefield

Bronte Parsonage Museum, Keighley

Barge Branwell Visitor Centre, Hebden Bridge