Attraction in Stroud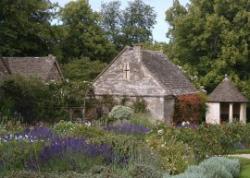 Misarden Park Gardens
Estate Office
Misarden
Stroud
Gloucestershire
GL6 7JA | View map
Click for phone
Write a review
update this listing
This lovely timeless English Garden, which commands spectacular views over the Golden Valley has most of the features one would expect a garden started in the 17th Century. There are extensive yew hedges and a notable yew walk dividing the walled garden, the york stone terrace, the Lutyens Loggia overhung with wisteria, and a good specimen of magnolia sulangiana. The south lawn supports splendid grass steps and fine mulburry (probably planted when the original house was built in 1620). West of the house the ground ascends in a series of lawns, terraces and shrubberies. Within the walled garden the long double mixed borders are newly planted.

The former rose walk has been replanted as a mixed border with apricot and grey echoes of the neighbouring parterre, this containing hebes, lavender, tulips, allium and Chanelle roses. A rill with a fountain and the stone summerhouse were added as a feature to mark the Millenium.

Beneath the house blue geranium Rozanne, aster and agapanthus together with golden rubus, populus richardii and gladitsia lead the eye to a venerable cedar in the Deer Park below. There are many fine specimen trees and the spring show of blossom and bulbs is notable.
Details
Months Open: April - Sept
Groups/Parties Welcome: Yes
Discount for Groups: Yes
Car Parking: Yes
Admission Price: Adults: £4
Children: Free

More Attractions nearby
Kilkenny Viewpoint and Nature Reserve (0.26 miles)

Museum in the Park (0.32 miles)

Hawkwood College (0.68 miles)

Gloucestershire Guild Gallery (2.81 miles)

Painswick Rococo Garden (3.17 miles)


This page viewed on 9,801 occasions since Oct 16th 2005
Brit Quote:
Invention, it must be humbly admitted, does not consist in creating out of voice, but out of chaos - Mary Shelley
More Quotes
On this day:
Battle of Blore Heath - 1459, Chaplin Returns to England - 1952, 1st British woman News reader - 1955, BBC launches the world's first Ceefax teletext service. - 1974, Steve Redgrave wins 5th Olympic Gold Medal - 2000
More dates from British history