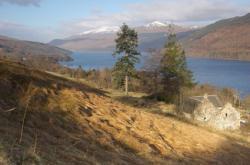 Loch Tay is a freshwater ribbon lake in the Perthshire district of the Central
Highlands
. Ribbon lakes are long and narrow lakes, usually formed by glacial action. Loch Tay is very typical of this genre being 14 miles long and yet, at the most, only one and a half miles wide. The lake is around 500 feet deep and is ranked as the sixth largest by area in Scotland.
Mountains such as Ben Lawers, the tenth highest mountain in Britain at 3,982 feet, surround the lake. The Scottish Highlands and the
Grampian
mountains are to the south, and Breadalbane to the north. Breadalbane means literally 'highland Scotland' in Gaelic and refers to the mountains of Perthshire that provide such a dramatic backdrop to the lake.
The loch is set in a remote area and yet visitors are literally spoilt for choice for activities. Fishing is an obvious attraction with such an expanse of rural water at hand, and Salmon are possibly the principal draw for the angler. Fishing trips depart from various Tayside locations, such as the village of
Killin
. The same boats are often also used for trips to view the abundant wildlife on and around the lake.
Loch Tay is renowned for other water sports, apart from fishing. Canoeing, rafting, paragliding, yachting and pleasure boating are all very popular on the lake. Three main centres service the loch; the Croft-na-Caber water sports centre, the Loch Tay boating centre and the Highland Lodges.
The rural character of the area is only emphasised in much of its architecture. The Taymouth Trading gift shop, located in the old chapel at
Kenmore
, is an example with its local stone construction and mullioned windows. The shop is just few steps away from the square in the village of Kenmore. Even though the gift shop sits almost in the village square, in a remote highland location, it is also next to a beach! The lakeside is very sandy in parts and in the warmer weather people flock to the beach at Kenmore just as if it were a British seaside resort. The small section of lakeside that serves as a beach is made up mainly of sand and some shale. It shelves gently into the lake and so in favourable weather is a popular place for bathing.
Taymouth Castle
, once the seat of the Campbells of Breadalbane, stands guard at the north eastern tip of the lake near Kenmore. The present building mainly dates from the 19th century but it stands on the site of the ancient Balloch Castle which was built in 1550.
More British Natural features?
Other Perthshire Naturals
River Tay
Ochil Hills
The Trossachs