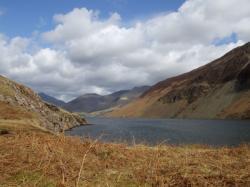 It is no secret that some of the most tranquil and beautiful scenery in England is to be found in the
Lake District
. With numerous lakes and valleys to choose from, it would be hard to pick any as being the most beautiful. If you did find yourself in this position, however, you would surely have to rank Wastwater Lake and the
Wasdale Valley
amongst the top contenders. The view there is so beautiful that it was voted as 'best view in the UK' on the ITV programme 'Britain's Favourite View' in 2007.
Wastwater Lake is three miles long and half a mile wide and is the deepest lake in England. It is surrounded on one side by plains and the other by mountains. The mountains include
Scafell Pike
, which is England's tallest mountain. Other peaks at the waterside include Great Gable and Lingmell, both impressive peaks which offer fantastic panoramic views of the lake and surrounding area.
The area was colonised by Nordic invaders sometime around the 9th and 10th centuries. The settlers having left a lasting reminder of their stay in the quaint
St Olaf's Church
at the Wasdale Head end of the lake. From the outside this tiny church (one of the smallest in England) could be mistaken for an old farm or outhouse building, with only the tiny bell tower giving a clue as to its true purpose. Inside the church is truly beautiful, with its traditional would beams exposed inside its low roof.  The wood beams are said to have come from the
Viking
ships.
There are many walks and climbs to enjoy in the area and a footpath that runs the entire length of the lake is especially popular with visitors. Canoeing and Rowing are also available on the Wastwater, as is diving. There was once an underwater gnome garden, complete with picket fence, which had been placed by divers on the bed of the lake. This was removed by police after it was believed to have been contributing to diving fatalities. Rumour has it that a new garden has been placed at depths beyond that which the police are allowed to dive.
The Lake District has been a popular tourist destination for hundreds of years and continues to attract those who seek an active holiday in a tranquil region. The area offers a full spectrum of
accommodation
choices including camping, caravanning, hostels and hotels.
More British Natural features?
Other Cumbria Naturals
Lake Windermere
Scafell Pike
Helvellyn
River Eden
Derwent Water
Ullswater
Bassenthwaite Lake
Solway Coast
North Pennines
Solway Firth
Coniston Water
Arnside and Silverdale
ScaFell
Borrowdale
Buttermere
Aira Force
Duddon Valley
Barrow Island
Walney Island
River Wampool
River Ehen
River Duddon
River Lune
River Cocker
River Esk