Attraction in Chichester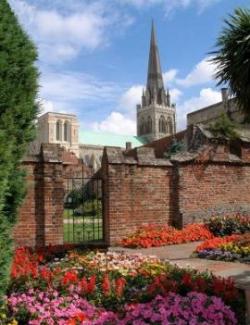 Chichester Cathedral
West Street
Chichester
Sussex
PO19 1PX | View map
Website
Click for phone
Write a review | read reviews
update this listing
For 900 years Chichester Cathedral has been a landmark from land and sea. The Cathedral combines intimacy with majesty in a building which successfully mixes the old and the new.

Famous for its modern art Chichester Cathedral contains a stunning Chagall Window, a Piper Tapestry and works by Sutherland, Feibusch and Skelton. Its more ancient treasures include the Arundel Tomb which was the inspiration for Philip Larkin's poem, two romanesque sculptures from the 12th century depicting the raising of Lazarus and Christ arriving at Bethany and the site of the Shrine of St Richard.

Chichester Cathedral has a strong musical heritage, Gustav Holst had links with the Cathedral and his ashes were interred in the Cathedral and Leonard Bernstein composed the Chichester Psalms for the Cathedral. Throughout the year the Cathedral runs a series of lunchtime concerts at 1.10pm on Tuesdays which are free. (Please ring 01243 782595 to check concert times and dates).

Situated in Chichester's pedestrianised shopping centre, the Cathedral is easily accessible by train or coach (coach drop off point outside the Cathedral). There is no charge for entry. There is a Cathedral Shop and Restaurant on site. There are facilities for disabled visitors. Free guided tours are available at 11.15am and 2.30pm Monday to Saturday . Guided tours can also be booked for groups. Tours can be tailored to meet the needs of your group or to focus on particular aspects of the Cathedral.

For more details please contact the Visitor Services Officer 01243 782 595 or visit our website.
Details
Months Open: All year (subject to services)
Admission Price: Free

More Attractions nearby
Pallant House Gallery (0.11 miles)

Chichester District Museum (0.11 miles)

St Mary's Hospital (0.15 miles)

Chichester Harbour Water Tours (0.25 miles)

Mechanical Music and Doll Collection (0.84 miles)


This page viewed on 10,205 occasions since Oct 16th 2005