Delta Force Paintball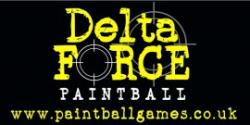 Tithebarns Farm
Tithebarns Lane, Send
Woking
Surrey | Update this listing
GU23 7LE | map
Tel: 0844 477 5050
add your business for free
Delta Force Paintball, the world's largest paintball company!

You are securely positioned behind the driver's seat of a double-decker bus; your team are holding the perimeter, completely hidden from the searching eyes of the enemy in the surrounding shrubbery. Tense with anticipation, your squad await your signal to attack!

If this is your idea of action and excitement then you've come to the right place. Gone are the days of hiding behind trees and wooden pallets. Our movie-set quality game zones mean you and your friends can play on various themed scenarios, including the Mummy's Pyramid Revenge, Viet Cong Village, Two-Storey Alamo Stockade, Afghan Fort, Double-Decker Bus and much more.

23 locations throughout the UK and Ireland.
This page has been viewed 2,043 times since 27th April 2009
Other Activities nearby:
Albury Estate Fisheries, Guildford

Tandridge Lake, Lingfield

Surrey Hills Llamas, Guildford

Surrey Hills All Terrain Mountain Bike Tours, Holmbury St Mary

NDM Martial Arts, Camberley

Sandown Active Sports, Esher

Christ's College Ski Club, Guildford

Guildford Spectrum, Guildford

Tenpin Ltd, Kingston Upon Thames

Sutton Palace Superbowl, Sutton

Go Ballooning, Godalming

British School Of Ballooning, Godalming

Reach For The Sky Ltd, Guildford

Goals Soccer Centre - Sutton, North Cheam

Goals Soccer Centre - Wimbledon, New Malden

Powerleague Croydon, Croydon

Self Defence Tae Kwon Do, Kingston Upon Thames

Focus Martial Arts, Surbiton

Nam Yang Martial Arts Centre, Epsom

Choi Kwang Do Martial Arts, Sutton

Bytomic Tae Kwon Do, Guildford

Tipson Choi Kwang Do, Dorking

Egham Shotokan Karate Club, Egham

Redhill Karate Kai, Reigate

Chinese Kickboxing, Guildford

Ancestral Arts Tai Chi, Guildford

Cobham Martial Arts Centre, Cobham

Cinnamon Active, West Molesey

Turk Launches Ltd, Kingston Upon Thames

Guildford Boat House Limited, Guildford

Team Kona (Mountain Bikes), Guildford

Epsom CC, Epsom

Farnham RC, Farnham

Festival RC, Croydon

Kingston Wheelers CC, Kingston Upon Thames

Surrey Road CC, Sutton

Sutton Offroad CC, Banstead

Sutton Cycling Club, Sutton

Southern Raiders BMX, Bagshot

Tandridge Bike Club, Warlingham

Weybridge Wheels CC, Addlestone

Green Dragons, Woldingham

GLSW & Surrey Scout PC, Burgh Heath

Laleham Archery Club, Staines

Mole Valley Bowmen, Dorking

Atkins Archers, Epsom

Chessington Bowmen, Chessington

Guildford Archery Club, Guildford

Malden Bowmen, New Malden

Nonsuch Bowmen, Epsom

Oxshott Village Bowmen, Oxshott

Royal Richmond Archery Club, Richmond Upon Thames

Surrey Bowmen, Epsom

Warlingham Archery Club, Warlingham

Orchard Cottage Riding Stables, Tadworth

Burstow Park Equestrian Centre, Horley

Kiln Stables Riding School, Farnham

Chessington Equestrian Centre, Chessington

Wildwoods Riding Centre, Tadworth

Poynters Riding Centre, Cobham

Sandra's Riding School, Horley

Epsom Polo Club, Epsom

Barnfield Riding School, Kingston Upon Thames

Surrey Hacking, Guildford

Shey Copse Riding Centre, Woking

Tandridge Priory Riding Centre, Oxted

Bridleways Equestrian Centre, Leatherhead

Weybridge Equestrian Centre, Weybridge

Ham Polo Club, Richmond Upon Thames

Steadmans Mead Stables, Guildford

The Forty Plus Cycling Club,

Bisley Bowmen Field Archery Company, Ripley

Ministry of Paintball, Dorking

Ministry of Paintball, Reigate

Ministry of Paintball, Guildford

Go Ape!, Farnham

Ride The Hill, Nutfield

Lets Race, Horley

AirHop, Guildford

Gravity Force, Camberley


Other things to do in the area
Whitehall, Sutton

Great Cockcrow Railway, Chertsey

Loseley Park, Guildford

Bocketts Farm Park, Leatherhead

Sutton Ecology Centre, Carshalton

Wanborough Great Barn, Guildford

Little Holland House, Carshalton

National Archives Museum, Kew

Watts Gallery, Guildford

British Wildlife Centre, Lingfield