Curious About Bath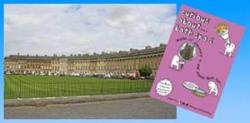 Starting From Bath Abbey
Bath
Bath | Update this listing
Tel: 0115 950 2151
Visit website
Send email
add your business for free
Buy or download our booklet of two unique treasure hunt style walks. Find out what gives Bath Spa its unique character and which people and events have shaped its personality. Take our fabulous walks of discovery, and have fun finding answers to clues which tell you more, whilst reading stories about the most interesting facts.
The two unique walks can be enjoyed separately or joined together to form one longer walk - depending on available time and energy! Both have been carefully chosen to highlight aspects of the city which might otherwise remain hidden.
Walks are suitable for all ages, and typically take 1-2 hours to complete.
Have fun!!
This page has been viewed 2,172 times since 15th March 2012
Other Activities nearby:
Go Ballooning, Bath

Mind & Body Korean Martial Arts, Bath

Bath Wing Chun Academy, Bath

Martial Arts Life Skills Academies, Bath

Bath Narrowboats, Bath

Rennie Watersports, Bath

Wellow Trekking Centre, Bath

Bathampton Angling Association, Bath

Go Skydive, Bath

Innovation Ballooning, Bath

Historic Bath Photo Walkshops, Bath

Bath Archers, Batheaston

The Department of Sports Development, Bath

Evolution Tramploine Club, Bath

Pulteney Princess, Bath

Bath Small Green Boat Co, Bathwick

Bath Cycling Club, Bath

University of Bath Triathlon Club, Bath

North Hill Farm Riding School, Bath


Other things to do in the area
Prior Park Landscape Garden, Bath

Sally Lunn's House, Bath

Botanical Gardens, Bath

Beckford's Tower and Museum, Bath

Jane Austen Centre, Bath

American Museum in Britain (The), Bath

Bath Postal Museum, Bath

The Herschel Museum of Astronomy, Bath

Bath Abbey, Bath

Fashion Museum, Bath