Attraction in Peebles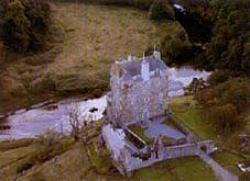 Neidpath Castle
Peebles
Borders
EH45 8NN | View map
Click for phone
Write a review
update this listing
From about 1200 the Lords were a family of Frasers, of whom the last, a compatriot of William Wallace, defeated the English Armies three times in one day at Roslin, 15 miles north of Neidpath. The English took Sir Simon in 1307 and he suffered the same fate as Wallace. The Lordship went, with his daughter Mary, to the Hay Family in 1312.

The Hays built the castle as it appears today and held it for nearly 380 years. During that period Mary Stuart and later her son James VI visited Neidpath. Different visitors were the troops of Oliver Cromwell who lay siege to Neidpath in 1650. After this the castle was converted to a tower house, a rare example of 17th century comfort within a medieval tower.

In 1686 the Douglas's took possession of the castle by purchase. The last Douglas of Neidpath, the 3rd Earl of March and 4th Duke of Queensberry was castigated by William Wordsworth in a sonnet for having the trees around Neidpath cut down in 1795. On the death of "Old Q" in 1810 the castle and estate passed to Earl of Wemyss, the present owners.

Neidpath Castle is a popular film location.
Details
Location: One mile west of Peebles on A72
Months Open: May Bank Holidays and 29 June - 9 Sept
Groups/Parties Welcome: Yes - can open by arrangement with custodian
Discount for Groups: Yes
Coach Parking: Yes
Car Parking: Yes
Contact Name for Groups: Mr Keith Roxburgh
Admission Price: £3

More Attractions nearby
Burnside Gallery (0.22 miles)

Cross Kirk (0.48 miles)

Go Ape! (2.20 miles)

Kailzie Gardens (2.55 miles)

Saint Ronan's Wells Interpretative Centre (5.44 miles)


This page viewed on 6,881 occasions since Oct 16th 2005