Self-Catering in Knightsbridge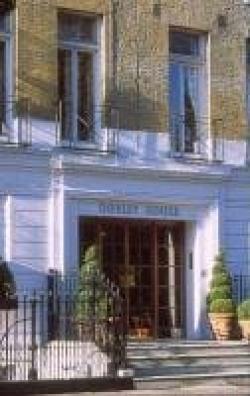 Durley House
115 Sloane Street
Knightsbridge
London
SW1X 9PJ | View map
Write a review
update this listing
Book Now
Check availability and book this hotel online with Active Hotels
Situated at one of Londonís most exclusive addresses, and opposite the private Cadogan Gardens, these elegant suites are a luxurious starting point for discovering sophisticated south-west London.
Located in Sloane Street in Chelsea & Knightsbridge, Durley House is just a short walk from Harrods, Hyde Park and the famous Kingís Road. At the hotel you can indulge in in-house private dining, celebrity chef functions (on request), private parties, private gardens and a tennis court. You can also benefit from access to the private health club and spa, and the luxury of your stylishly furbished suite with its own kitchen.
Durley House is an 'all suite hotel' with 11 suites, each of them individually designed and elegantly furnished with antiques. This charming hotel provides a relaxing atmosphere, excellent service, and above all, privacy right in the heart of vibrant London.
Travel Help
Local Car Hire
Book Train Tickets
Book a Taxi
Facilities
Credit Cards Accepted
Room Service
Gym
Tennis Court
Swimming Pool
TV in Rooms
Night Porter
Garden

This page viewed on 4,439 occasions since 21st September 2007
Brit Quote:
Merely having an open mind is nothing. The object of opening the mind, as with the mouth, is it firmly shut it again on something solid - GK Chesterton
More Quotes
On this day:
Original Globe Theatre Burns Down - 1613, Battle of Cropredy Bridge - 1644, 1st Edition of the Daily Telegraph - 1855, Sons and Lovers Published - 1913, First British Credit Card Launched - 1966
More dates from British history