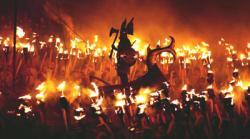 600 miles north of
London
, way past the
Orkneys
and reaching up towards Scandinavia lie the Shetland Isles. Though they may be part of Scotland, Nordic culture has left an enduring influence on Shetland's peo-ples and customs.
Until the 19th Century, the west Nordic language of Norn was spoken on the island. The name, Shetland, was derived from Hjaltland. Old Norse, of course. So with this in mind, the technicolour mid-winter festival of
Up Helly Aa
makes perfect sense. Sort of. The festival of Up Helly Aa sounds a bit like an insult, and how to spell it seems to be a matter of interpretation, but it is how Shetland celebrates the end of Yuletide. Moreover, it is one of the most emphatic displays of Shetland's identity, with a wink and a nod to its Viking heritage.
With one eye on preserving the Isles' Nordic traditions, and another on just throwing a royal knees up in the near perma-gloom of a harsh Shetland winter, Up Helly Aa really began to swing in the 19th Century. With a population of sailors, soldiers and farmers, there was no shortage of roistering young men. Nowadays, Ler-wick is the epicentre for the celebrations – but it wasn't always this way. Up Helly Aa was more of a sporadic event, played out across the whole of the Isles. Naturally, as
Lerwick
grew, so too did Up Helly Aa, and it now attracts up to 1,000 costumed guizers (people in disguise) who form squads and take to the streets perform-ing music and dance. Oh, and lighting fires: fire is crucial to Up Helly Aa and, as such, it is the biggest festival of fire in Europe.
The precariously narrow streets of 19th Century Lerwick grew considerably more dangerous when Up Helly Aa gathered momentum. Burning barrels of tar were careered through the streets by rival squads. Even in the more carefree times before the hegemony Health and Safety, this was too much: fire, booze, high spirits, were a potent cocktail – Up Helly Aa had to evolve if it (and Lerwick's citizens) were to survive. By 1878, the bar-rels of tar had made way for the longboat – known locally as a yoal. The longboat, complete with the carved head and tail of a dragon, was burned, ushering in the new year and a less anarchic tradition for Up Helly Aa to follow.
Up Helly Aa is now organised by committee, and led by the chief guizer or 'Jarl'. The Jarl leads his fellow torch-brandishing guizers through the streets, towards the longboat. In the manner of a
Viking
burial the longboat is set ablaze, and Up Helly Aa's squads will make for the town's halls for a long boozy night of mu-sic, dancing, and performance art. It might be mad, it probably is anarchy, but in the long darkness of the Shetland winter can anyone blame them?
More British Folk Customs?
If you like this, Share it