British Military Attractions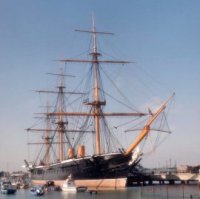 Britainís often bloody history has left thousands of years of sites to explore.
The Romans
left us Hadrianís Wall, stretching across the country. At Housesteads near
Hexham
,
Northumberland
, the remains of a great fort built to keep the northern barbarians at bay can be visited. At the other end of the country and our history, The Needles Battery on the
Isle of Wight
fulfilled a similar function, but this time to face the Germans during WWI and WWII. In earlier times Britainís wooden walls, our ships, defended our shores. Our most famous warship,
HMS Victory
, is displayed in
Portsmouth
. These days a visit to the museum is no longer a trudge around endless glass cases. The
Imperial War Museum
is renowned throughout the world, and as well as the Lambeth Road site in
London
there is its
Duxford Air Museum
near
Cambridge
, and its northern arm in
Manchester
, with displays and activities to fire the imagination. A wider perspective can be gained from visiting some of our historic battlefields. Three which changed British history forever are well worth the effort. The site of the
Battle of Hastings
, where in 1066 the Normans seized this country in one bloody victory, is managed by English Heritage.
The Battle of Bosworth
site, near Sutton Cheney, where the Tudors killed
Richard III
and established their dynasty, offers a fascinating day out, with a visitor centre and country park to fill the mind with history and the lungs with fresh air. And up near Inverness the last battle on British soil, Culloden, where the Stuart hopes ended, offers a visitor centre and battlefield tour. In
County Durham
Harperley POW Camp provides a reminder of the intimacy and tragedy of war, a stark contrast to the vision of grandeur that conflict sometimes creates.
Brit Quote:
Kings govern by means of popular assemblies only when they cannot do without them - Charles James Fox
More Quotes
On this day:
First Actress on British Stage - 1660, First Recorded UFO in Britain - 1733, Bonnie Prince Charlie Turns Back at Derby - 1745, Britainís First Heavyweight Boxing Champ - 1863, Opening of the Clifton Suspension Bridge - 1864, RAC Established - 1897, John Lennon shot dead - 1980
More dates from British history