Lochaber Mountains, Highlands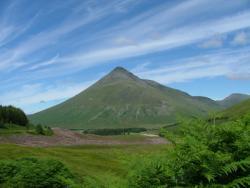 The Lochaber Mountains are a popular destination all year round and offer a unique challenge and a very different aspect depending on what time of year you should choose to visit. During the winter the area is often completely bathed in white, resembling the Antarctic more than Britain. This is a huge contrast to the variety of different shades of green that can be seen when visiting the area in the summer time.†
At the top of the many Munros in the area, the winter lasts for much longer than in most of the British Isles and the snow covered peaks continue to give a real mountaineering feel. The Lochaber range can be found in the western part of the Highlands of Scotland and is close to
Fort William
.
The Lochaber mountain range contains, amongst others,
Ben Nevis
, Britainís tallest and most famous peak. Readily accessible and popular, the range nevertheless offers a serious climbing challenge that should not be taken lightly. Although not as high as some Alpine mountains, the Lochaber Mountains can be quite as difficult and every bit as dangerous to climb.
Novice climbers would be advised to use the services of one of the professional mountain guides who are available for hire in the area. However you choose to approach it, you will be rewarded with some of the most incredible views Britain has to offer if you scale the heights of the Lochaber Mountains.
Walking, mountain biking, climbing, skiing and snowboarding are among the list of outdoor
activities
that are available in the region. The popularity of the region for outdoor pursuits ensures that your needs for equipment hire are well covered. Good emergency services are also on hand in case any adventure encounters any mishaps.† Accommodation is plentiful with holiday
cottages
for rent as well as
hotels
,
bed and breakfast
and
hostels
in the area. There are also plenty of
restaurants
and
pubs
offering a rest from the more energetic pursuits available in the area.
Climbers can get help in reaching the summits by using the mountain gondola services. These can simply offer a pleasurable way to see more of the mountains with less effort. They are also capable of taking your mountain bike, snowboard, skis or even paraglider or hanglider to the heights. This takes most of the effort out of getting up and none of the thrill away from the subsequent decent!
More British Natural features?
Other Highlands Naturals
Ben Nevis
Cairngorms
River Spey
Lake Morar
Loch Maree
Loch Ness
Loch Lomond
Moray Firth
Great Glen
Falls of Glomach
Cape Wrath
Cairn Toul
Ben Macdhui
Aonach MÚr