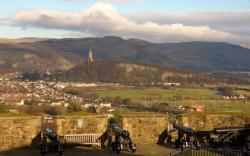 The Ochil Hills is the name given to a range of hills found in Scotland, to the north of the Forth valley. The towns of
Stirling
,
Alloa
,
Kinross
and
Perth
are situated nearby around the borders of the range. The hills are part of a Devonian lava extrusion and the highest point is 2,365 feet, at Ben Cleuch. The volcanic rocks of the Ochil Hills store deposits of copper and silver which have been worked at various places, including Bridge of Allan and Sterling Glen.
Stirling's importance in the area developed because the the passes through the hills meant that the town was the effective gateway to the
Highlands
. Few main routes cross the hills, with roads through Glen Devon, Glen Eagles and Glenfarg. The
Glenfarg
route is now mainly only used by local traffic. The M90
Edinburgh
to Perth motorway cuts through the eastern foothills, taking most of the long distance traffic away from Glenfarg.
In the late 1400s
Castle Campbell
was built at the head of
Dollar
Glen to replace the earlier castle that was known as Castle Gloom. It had limited strategic purpose but was a potent visual symbol of power of the Campbells in the area. Sheriffmuir, on the northern slopes of the hills, is the site of the
1715 battle
of the Jacobite rising.
In the early days of the
Industrial Revolution
several mill towns, such as Tillicoultry,
Alva
and Menstrie, grew up in the shadow of the Ochils to use the available water power. Some of the mills are still open today, although only as museums.
Walking, and more specifically hill walking, is very popular in the Ochil Hills. Once covered in a blanket of forest, the hills are now largely cleared of trees and the constant grazing of sheep has kept the trees from re-settling. This means that the Ochils provide ideal walking terrain, with many clear paths cutting through the low-level bracken. High up, the hills are best described as rolling rather than rugged.
Visitors should be careful though, however, during April and May. This is the critical lambing time, and visitors should literally go out of their way to avoid separating ewes from lambs. Dogs must be kept under very close control at all times and must never be allowed to run free. Above the hills you might see plover, curlew, skylarks, kestrels and buzzards in the skies. Occasionally you may even spot roe deer on the western reaches.
More British Natural features?
Other Stirlingshire Naturals
Loch Lomond
The Trossachs
The Campsie Fells