Budgets in Wembley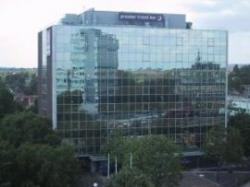 Premier Inn London Wembley
151 Wembley Park Drive
Wembley
London
HA9 8HQ | View map
Website
Click for phone
Write a review | read reviews
update this listing
This impressive modern building offers superb views of the new Wembley National Stadium and Concert Arena. Here, you'll find clean, comfortable rooms and receive warm, friendly and efficient service from all the team.
Premier Travel Inn Wembley is ideally situated for central London's business districts, shops, theatres, entertainment and nightlife. There's no congestion charge here, so you can leave your car in the car park (5 GBP daily charge) and take the tube into the city centre in just 12 minutes.
The price of your stay is charged per room, not per person, which allows great savings if bringing your children.
Travel Help
Local Car Hire
Book Train Tickets
Book a Taxi
Facilities
Parking
Credit Cards Accepted
Evening Meal Provided
Tea/Coffee Making Facilities
Open All Year
TV in Rooms

More Budgets nearby
Euro Hotel Wembley (0.17 miles)

Wembley Hotel (0.26 miles)

Ibis London Wembley (0.61 miles)

Premier Inn London Greenford (1.71 miles)

Travelodge London Park Royal (1.98 miles)


This page viewed on 4,106 occasions since 16th April 2007
Brit Quote:
Man hands on misery to man. It deepens like a coastal shelf. Get out as early as you can, and don't have any kids yourself - Philip Larkin
More Quotes
On this day:
Scotland and France form their 'Auld Alliance' - 1295, Battle of Southwark - 1450, Newton's Principia Published - 1687, Giant Hailstone Hits Plumstead - 1925, National Health Service established - 1948
More dates from British history